Anti-wrinkle Injections
Dr. Simon will be offering Anti-wrinkle Injections and Dermal Fillers.
Using Botulinum toxin's top quality products which gives our clients a longer lasting result that gets to work much quicker and gives amazing results
At Kennedy Dental Cosmetics, we use anti-wrinkle injections to create a natural-looking reduction in lines and wrinkles, leaving you with a softer, more youthful and brighter appearance.
Anti-Wrinkle injections is mainly used to reduce lines and wrinkles on the face but also can be used for lines around the mouth, nose and chin areas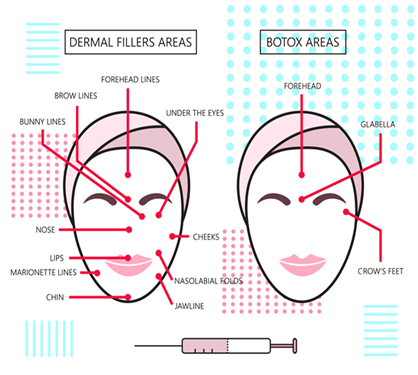 Dermal fillers
As we get older, our body functions slow down, and the skin loses its ability to make Hyaluronic Acid. Resulting in a loss of natural elasticity and youthful volume especially from the face and neck. Dr. Lew can restore this loss of volume by using Dermal fillers.
The product we use for dermal fillers is a range with a specific formulation of non-animal sourced hyaluronic acid.
Do you want to slow down the signs of aging?  Dermal fillers gives long-lasting results and provides an alternative to more invasive cosmetic treatments or surgery.
It is a subtle method to regain plump, smooth, youthful skin.
Pain free Injectables with local Anaesthetic available